Shelf to display
Guy Maillot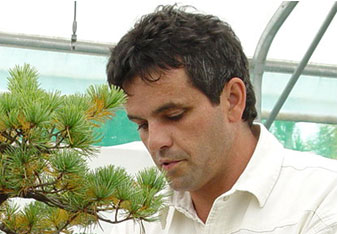 After three years spent training with master Sudo in Japan, I learned techniques for creating perfect bonsais, along with the great discipline required to shape, maintain and display them in accordance with traditional rules.
Now with nearly 35 years of experience running Maillot-Bonsaï, I have been able to sharpen my knowledge, learn to recognize a high-quality tree, discern its needs, and understand how to prevent or cure any parasites or diseases.
Each year I go to Japan to further refine my skills in the art of bonsai and to individually select bonsais that are available to you on this site and in our nursery in Relevant, France.
When passion guides a company, the quality of the plants and their presentation is a priority.
A constant research of originality and harmony.