Our workshops
The Maillot-Bonsaï nurseries offer workshops on the art of bonsai all year round.
Various levels of the courses are available. The workshops already scheduled are listed below.

To reserve a place, just choose the workshop you're interested in and register on our web site. Your seat will be reserved as soon as your payment is received (payment can be made online or by cheque made out to Maillot-Bonsaï SARL).
Be aware that seating is limited.

Check this page often for new workshops being offered.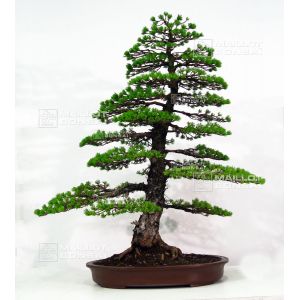 Ecole murakawa 2014

09-01-2014 09:00
ECOLE DE BONSAI MAILLOT-MURAKAWA Suite au succès remporté par les 11 années de l'école de bonsai Maillot / Murakawa, une nouvelle session se tiendra du 01 au 06 septembre 2014 aux pépinières du Bois Frazy à Relevant. Kyoshi Murakawa viendra en assurer les cours accompagné pour les traductions de Guy Maillot. La première année de la session de 4 ans sur les caduques en 2013, cette année 2014 la deuxième sur les arbres à fleurs et à fruits, la troisième portera sur les conifères en 2015 et pour l'année 2016 ce sera les miniatures bonsai et tablettes de présentation, plantes d'accompagnement, la présentation (tokonoma kazari). Les cours porteront sur un ou deux arbres avec du potentiel fourni par l'élève. Les différents travaux se feront sur ce végétal. Le matériel nécessaire à l'exécution des différents travaux, tel que fils, outils et poteries peut bien sûr être acheté sur place mais nous vous conseillons d'apporter le vôtre. Le déroulement d'une journée (9-12h, 14h-17h00) : Matin : Cours théorique sur les différentes espèces adaptées à la culture en bonsai avec leurs particularités culturales : mode de multiplication, périodes de taille, rempotage, ligaturage, défoliation, arrosage, soins particuliers, maladies et parasites... Question / Réponses. Etude de cas particuliers. Après-midi : Travail sur les arbres (tour de table des arbres des élèves, choix de la face avant, détermination des points forts et faibles, esthétique, possibilités de projet, choix d'une poterie et du style, taille et mise en forme, avenir de l'arbre...). Le tarif pour 6 jours de cours est de 525 € par personne. L'hébergement et les repas ne sont pas compris. Les inscriptions sont ouvertes jusqu'au 15 juin 2014 Un acompte de 200€ permet de réserver sa place. En réglant par le site internet vous pouvez choisir le paiement en 3 fois sans frais. Les cours comprendront un maximum de 15 élèves. Présentation des intervenants : Kyoshi Murakawa : La famille Murakawa cultive et forme des pièces exemplaires, feuillus et conifères, dans sa pépinière située prés de la ville de Fukaya à 100 kilomètres au Nord-Est de Tokyo depuis plusieurs générations. Leurs arbres sont régulièrement primés lors de la célèbre exposition nationale du KOKUFU TEN de Tokyo. Kyoshi Murakawa a suivi 5 années d'études auprès du Senseï Saburo Kato. A 66 ans, il est l'un des grands maîtres de bonsaï au Japon. Il a collaboré à la rédaction de différents articles pour des revues de bonsaï japonaises (Kindaï magazine). Il a également animé des ateliers et effectué des démonstrations à la Pépinière de Relevant en 2004/2005/2006/2007/2008/2009/2010/2011/2012/2013
Registrations for this workshop are closed